Mascots Funny
10. Syracuse Orange
Name: Otto the Orange
First Appearance: 1980
Kudos to the marketing genius who thought to change Syracuse's nickname from the "Orangemen" to simply the "Orange". The change does wonders for the school's branding (short, sweet, and to the point), and also gives credibility to the choice to slap a face and a hat on an orange and call it a cheerleader. Idea for Syracuse home games this year: every time a 'Cuse player hits a three, fans throw oranges (on which they have drawn crude faces with a Sharpie) on to the court. Sure it's dangerous and wildly unnecessary but gosh darn it'd be memorable. Here's hoping for more fruit (and heck even vegetable!) mascots in the future.
9. Boise State Broncos
Name: Buster Bronco
First Appearance: 1932
Find me a more photogenic horse - you literally cannot. Buster's 100-megawatt smile is endearing and hits the giggle gland (trademark pending) because it's always fun to see a horse enjoying himself as much as Buster appears to constantly be. Rumor has it that when Boise State loses a tough game, fans flock to the happy horse (whose father was all but certainly a dentist of some sort) and their worries magically disappear. Once a man from Boise claimed he saw Buster frown. That man was immediately burned at the stake for being a liar (as mandated by Idaho state law).
8. Mount St. Mary's Mountaineers
Name: Emmit S. Burg
First Appearance: 1982
Emmit was named after his school's hometown of Emmitsburg, Maryland. He's a fiery red head with a coon skin cap that likes to exercise his 2nd amendment right - the right to bare arms (rim shot). There's a lot of funny things I enjoy about Emmit. One is that his official height and weight is listed on the school's website - he's 6'2'' and weighs 215 pounds. That's good size. Two is that in the photo above I like to think Emmit is singing "Laaaaaaaaaaaaaaaa!" in a not-so-masculine sort of voice. I don't know what it is, I just really enjoy the juxtaposition of a beefy mountaineer singing like Nathan Lane in the Producers (or in anything really).
7. Louisiana-Lafayette Ragin' Cajuns
Name: Cayenne
First Appearance: 2000
Syracuse isn't the only school with a piece of food leading their team into battle. Down in the Bayou (is it in the Bayou? For the purposes of this write-up - yes. Yes it is.) lives Cayenne, a red cayenne pepper unique to the University of Louisiana - Lafayette. By the looks of him, Cayenne is really more of a badass than he is "funny", but it's the thought that counts with this mascot. The thought of a savvy ULL point guard hurling a hot pepper into the opposing defender's eye as he gracefully glides to the bucket for the easy two.
6. Western Michigan Broncos
Name: Buster Bronco
Appearance: 1988
Like the Boise State mascot described earlier in this list, Western Michigan's horse is also named "Buster". For how ridiculously good-looking the Boise Buster is, Western Michigan's Buster is equally as stoned. Just look at those half-drawn eyelids and coy smile (freshmen college students high-five). What's admirable about Buster is just how functional he is while high - look at him curl that 20-pound dumbbell in the weight room he clearly wasn't aware he was in. Magnificent. (insert some joke about getting off your "high horse").
5. Oklahoma State Cowboys
Name: Pistol Pete
First Appearance: 1923
Pistol Pete, OSU's lovable cowboy, looks like one of the puppet's from Team America. OSU! Fuck Yeah!
4. UC - Riverside
Name: Scotty the Highlander
First Appearance: Unknown (UCR Bear logo introduced in 1954)
There's something about the University of California school system's bear mascots. First, we had the debonair Joe Bruin of UCLA on our "Best Mascots" list, then we featured Cal's frightening Oski on our "Worst Mascots" list, and now we come full circle with Scotty, the California Bear family's slower, less-talked-about cousin. Everything about Scotty is lovable from his awesome Scottish hat and kilt (not pictured), to his rad foam finger. Scotty secures a place in the top five of the funny mascot contest with his wide-eye stare and exposed tongue. Scotty looks like a 13-year old bear witnessing "bear-love" on the "bear internet" for the first time.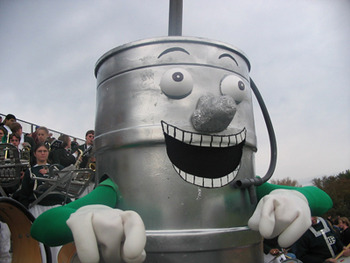 3. Dartmouth Big Green
Name: Keggy the Keg
First Appearance: 2003
Keggy the Keg is Dartmouth's unofficial mascot created by students in 2003. Though Keggy is "unofficial", he absolutely earns a spot on this mascot list as he represents the spirit of fun in sports and the spirit of getting wasted while watching sports. There may not be a better named mascot in all of sports than "Keggy the Keg". There may not be a better type of mascot in all of sports than a keg. No doubt the good ol' boys at Cornell are having a few yucks over the "dumbass Dartmouth" plebeians and their simple joy over beer-themed mascots. (For the sake of this write-up we are assuming Cornell students look down on Dartmouth students for being less intelligent than themselves - this could actually be accurate).
2. Stanford Cardinal
Name: The Stanford Tree
First Appearance: 1975
It's tough not to laugh when looking at the Stanford tree. One of my fondest memories was seeing a tournament game in St. Louis in which Stanford competed. I do not remember who Stanford played. I do not remember the score of the game. I do not remember if I even was in St. Louis. I DO remember a giant tree with a construction paper mouth and googly-eyes shimmying up and down the court with delight. The Stanford Tree is a first-grade "decorate the pine cone" art project come to life.
1. Western Kentucky Hilltoppers
Name: Big Red
First Appearance: 1979
Big Red is described as "a big, red, furry blob". He's a pretty apt mascot for Western Kentucky as no one knows what Big Red is supposed to be and no one knows what the f*** a Hilltopper is. There are so many great pictures of Big Red out there on the internet, my favorite of which come in the form of him "eating" something, whether it be a football pylon, a basketball, or a human child. Fun fact: WKU's website says Big Red is asexual - yes I agree that is a pretty weird thing to include on your website. Here's a weird video of Big Red visiting a baseball bat factory. Enjoy.